We provide fresh wood chips delivered to your door in Dublin 18 and Bray, Co. Wicklow, Ireland. Please carefully read the following paragraph before inquiring. Call 085 177 5500 or contact us to check availability.

NOTICE – This service is temporarily suspended due to COVID-19 travel restrictions. Fresh wood chip deliveries are not possible until normal business has resumed.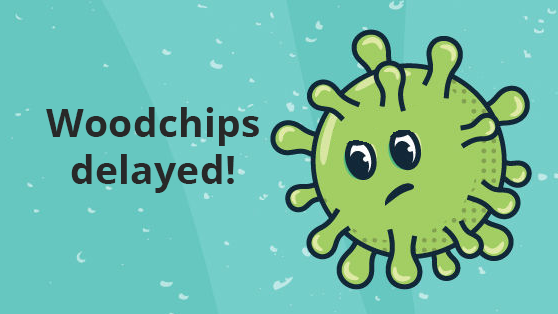 Please note we deliver fresh wood chip in Dublin 18 and Bray after tree pruning or branch removal services have been carried out and the truck is full. Wood chip can be delivered as it becomes available on a load by load basis. Loads are tipped directly onto the driveway or another suitable area of your choosing.
We cannot tip onto public roads or property you don't own. We don't keep a store of seasoned woodchip to hand – so if you require decomposed mulch you should let the chippings break down before use in mulching applications. Please conduct your own research to ensure fresh wood-chip is suitable for your intended application. Please ensure that you have space to store it while it breaks down.
Fresh wood-chippings can be suitable for temporary weed control in certain circumstances. Once fully composted, it can be used for spreading around banks, paths and flowerbeds. Wood chips come from freshly shredded branches which may be unsuitable for immediate application around delicate plants and saplings.
Certain toxic substances are present in fresh wood chips and can be harmful to certain plants and young trees. Leave chippings to decompose before applying to flower beds, young trees and shrubs. They should not be applied to herbaceous plants until fully composted.
Wood chip usually consists of mixed trimmings. Winter prunings tend to be more woody while summer prunings are usually greener. We can deliver in full or half truck sized loads – as they are available. Loads tip directly onto your driveway.
We deliver wood chip for free in Dublin 18 and Bray areas. Other areas may incur transport charges. Call us now 085 177 5500 or contact us for details.