Our Vibe
At Crown Tree Services we operate with a unique and environmentally motivated work ethic. We consider the effect of each and every cut on the trees we prune and are mindful how important properly maintained trees are. This applies not only for the health of the trees but also for our enjoyment of our gardens which can even have a postive effect on our mental well-being.
Gardens offers us a peaceful place to enjoy our own little slice of the natural world, to observe birds, bees and other pollinating creatures who visit and at times make homes in the safety of our trees. For this reason and especially with the rise in property developments shooting up all over Dublin City and suburbs, I believe it is important that we try to do our part to plant trees wherever possible (and practical) and to conserve whatever potential nesting habitat that remains.
These gardens are of course our own to enjoy for now and we are their stewards. Hopefully for the betterment of the ourselves, our trees and for the generations to follow. Call or contact us today to discuss and find out more.
About Us
During our 15 years in business we've consistently maintained an ecologically sensitive approach to tree care, treating the nesting period with respect and being mindful to observe and advise customers on the consequences of aggressive or badly timed pruning on the ecosystem of their garden.
We approach each tree pruning task by applying our own set of rigorous ethical guidelines, which reflect aspects of The Wildlife Act 1976 in the context of not causing adverse effects to nesting birds during the nesting period. We aim to continually educate ourselves and those we meet, learning and adapting through observation of nature's way as we navigate each individual job and its unique set of operating requirements. Call us now 085 177 5500 or contact us for a free quote.
As part of our service we try to help private home owners learn about the ethics, benefits and practices of proper tree care. We primarily provide tree surgery in the Dublin and Bray region. Call us now for a free quote.
Visitors from outside of Ireland please browse the site, there may be useful information that can help you with your tree pruning needs. I hope all users of crowntreeservices.ie can garner helpful information on the subject of tree pruning, tree maintenance and tree care, no matter where they're from in the world. Much of the information on pruning trees that applies here in Ireland may also be relevant in similar latitudes accross the globe.
On The Subject Of Tree Removal
Are you looking for a tree removal expert in the Dublin and Bray areas of Ireland? Thinking of calling a tree surgeon to remove your tree? Give careful consideration before removing a tree, particularly one that's healthy. To state the obvious once your tree is down, there's no putting it back, so take your time and consult with a Dublin tree surgeon like Crown Tree Services.
We'll be happy to provide you with advice on your tree situation and discuss all available options. If we can't help you directly, we may be able to point you in the right direction. Call 0851775500 to find out more.
While it is sometimes necessary, tree removal is arguably quite a severe and irreversible solution to a perceived tree problem. Determining the seriousness of an issue is a good first step. A variety of alternative tree reduction practices may also be available to you.
Having Second Thoughts?
Before you press the nuclear button on that tree you're having second thoughts about: stop, think and contact a reputable Dublin based tree surgeon such as we provide here at Crown Tree Services.
Call us now to arrange a site visit and an arborist will talk you through a variety of options. There may well be another compromise short of complete removal of your tree.
Before Tree Replacement
Although tree replacement can be an exciting new journey, it usually takes quite a long time for a desirable tree to settle. Slow growing trees will take even longer to establish.
In fact it can take a slow growing replacement tree many years to establish before it begins to show signs of providing useful amenity; leafy shade, screening from neighbouring windows or busy Dublin roads, and by affording a defensive habitat within which birds can build nests safe from the reach of predators.
We urge our customers to consider what trees and shrubs they already have before committing to tree removal and calling in the chainsaws. In many cases some careful cutting back of their trees can help restore the fresh look and feel of the garden, improving light penetration whilst preserving all important habitat that their trees offer birds.
Planting
Planting may not be the first choice particularly if you already have a perfectly healthy tree growing in your garden. An existing tree can generally continue to thrive without blocking too much light, with a little extra TLC.
Therefore, I feel it's our combined responsibility as arborists, tree lovers and home owners alike to help facilitate long-lived, healthy amenity trees in the Dublin and Bray areas or wherever you are.
Tree Restoration
We try to preserve, restore or salvage a tree wherever possible. If your tree was the victim of butchery it may be a candidate for phased crown restoration. If damage was severe it may need attention over the course of several years. This is because pruning too much foliage all at once can exacerbate a tree that's already in poor condition.
Note the above passage refers to trees in good health, without defect or structurally compromising illnesses of note. See images below depicting a fallen laburnum that succumbed to strong winds. The image to the right depicts a large horse chestnut with extensive cambial damage; heartwood decayed and in the early stages of a woodworm infestation.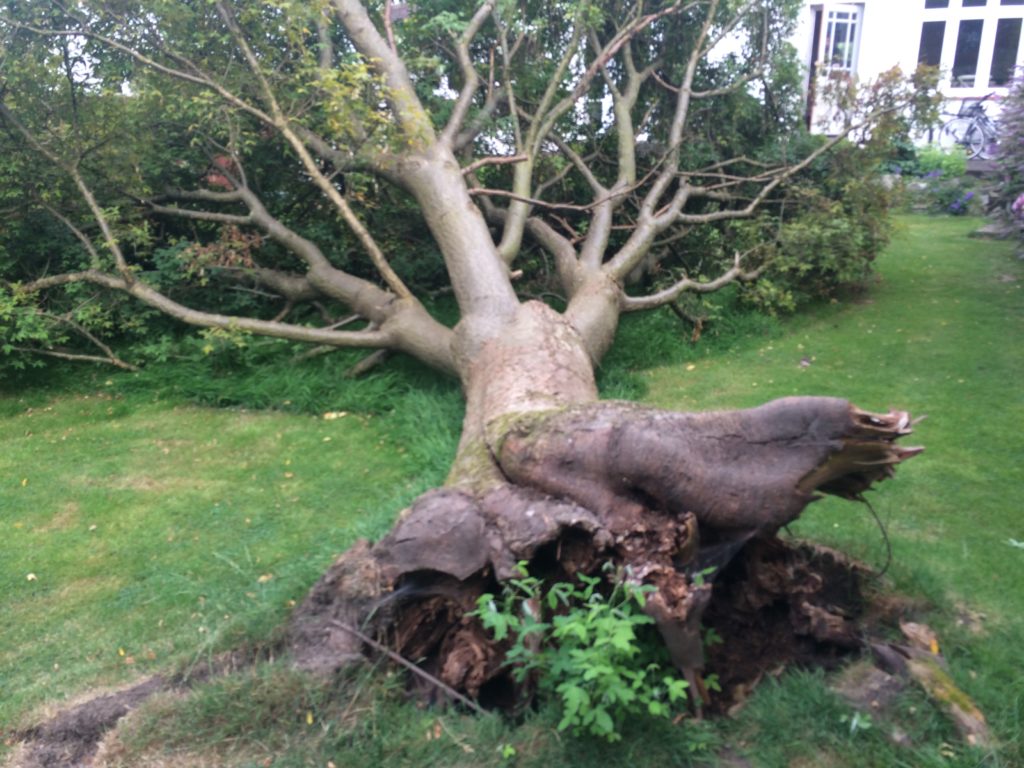 Should a tree require removal, due to severe ill health such as the latter stages of root rot or because of its proximity to high-risk targets such as houses, home offices, play areas, sheds or immovable ornamental structures, Crown Tree Services of Dublin can provide all the necessary recommendations and services to help carry out safe tree dismantling. We'll also offer thoughtful advice on selecting and installing a suitable replacement tree that is more suited to your needs.
Dublin Based Tree Surgeons
I find a little goes a long way if tree pruning operations are carefully performed. A well executed 'haircut' or in arboricultural terms a 'crown reduction', 'crown lift' or 'height reduction' can often help achieve the frequently desired result of allowing more light into your home or garden – without having to sacrifice your tree in its entirety by cutting it down to its bare roots.
Alas, this is not always the case. On occasion, either due to a trees size or proximity to your home, more drastic reduction measures such as hard pruning or tree removal may be considered to achieve the desired result.
Except with hazardous tree scenarios, the last and most severe of these measures is complete removal of a tree. Hard pruning trees often gives rise to an increased risk of unwanted stress reactions. These can manifest as vigorous reactive regrowth, tree decline and even tree death. Hard pruning is not recommended and in terms of tree health it should be avoided completely unless deemed absolutely necessary. Contact us if you'd like to discuss more about the potential problems associated with aggressive pruning.
crowntreeservices.ie
We offer a totally unique, personable and ecologically sensitive approach to our tree surgery services. Crown Tree Services are renowned throughout Dublin and Wicklow for our high level of attention to detail.
Nesting Season
We take special consideration during nesting season, from March to August, so as not to interfere with nesting birds. During this time birds may be occupying trees or hedgerows particularly those in less regularly maintained thorny hedges or larger gardens such as in Foxrock and Killiney for example.
Although nesting birds can situate in quite obscure sites, they tend to favour space. Therefore people with larger suburban gardens in areas like Killiney, Glenageary, Blackrock and Dun Laoghaire or in large rural gardens of Enniskerry and Bray should pay particular attention to the time frame within which hedge cutting is less likely to cause interference with active nests.
Hard cutting back of hedge height or depth should be left until after 1st September and can continue until the end of February. In Ireland, cutting down hedges or removing hedges completely should be left until this time window also.
Plan Hedge Cutting In Advance
Hedge level reductions are better left until the summer is over. A good time to cut most hedges is between the end of September to the end of February. By this time the majority of nesting birds have vacated. Keep this in mind if you're thinking about hedge height reduction and try your best to plan in advance.
Pay particular attention to thorny hedgerows made up of hawthorn, blackthorn, pyracantha, berberis and similar. Thorns are a prized habitat among the avian community. They provide smaller birds with a naturally defensive habitat, an obvious advantage against larger predators. Not to mention the added benefit of providing a convenient source of food for them.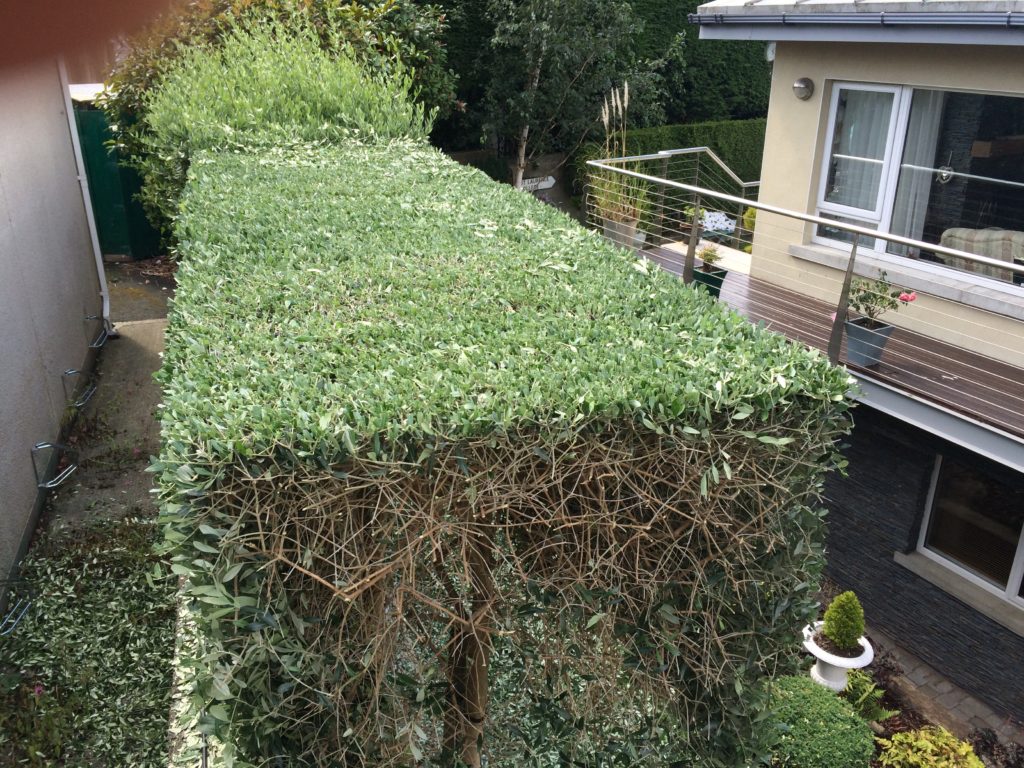 As a result of the nesting period our business of reducing hedges can be slower for Dublin tree surgeons. In my opinion it's a small price to pay and ensures that our native songbirds can attend to their young undisturbed.
Eco Attitude
All recyclable materials we generate are composted or utilised in mulching applications. Nothing goes to waste or ends up at the dump as landfill. We have observed that our Dublin based clients seek us out specifically as an environmentally friendly tree service provider.
It's wonderful to know that there are many like-minded tree lovers in Dublin, demonstrating concern for the well-being of our beloved amenity trees and the habitat they offer native birds.
Look no further than Crown Tree Services for all your tree surgery requirements. All pruning is carried out by our ecologically responsible team of Dublin based tree surgeons.
Service Areas
Our Dublin client base is steadily on the grow, servicing all South Co Dublin areas and Eircodes both North and South of the River Liffey. Locally, we deliver top rate tree surgeons and associated tree surgery services to Bray and Dublin 18 areas including: Ballybrack, Killiney, Glasthule, Deansgrange, Dun Laoghaire, Foxrock, Monkstown, Cornelscourt, Cabinteely, Sallynoggin and more.
We plan to expand our operation to include a service available to the wider Wicklow area. At present our willing team of attentive arborists serve many parts of North Wicklow including towns such as Bray, Greystones, Kilmacanogue, Delgany and Enniskerry.
Contact us today for your free quote
About Sam Brady
I completed my NPTC training in Carlow with Tree Care Ireland in 2006. I am keenly involved in the field of arboriculture, my focus areas being tree health and safety. I enjoy my work deeply, it brings me to a new place on a daily or weekly basis and I learn something new during every job. Mount Usher Gardens is my research hub of preference for checking out unusual and mature tree species and to just breathe in the beauty of the place. I am currently preparing for the ISA Arborist Certification in Dublin.