We provide tree services such as tree pruning and tree removal to Dublin and Bray. We use a variety of techniques to perform tree surgery operations. See several methods listed below. Each tree service includes a brief description of what they involve.
Tree Services we provide
This is the careful practice of removing diseased, non-productive and otherwise unwanted branches from a tree. It's important to prune at the right time of the year to reduce the risk of biotic pathogens infecting your tree. Correctly timed pruning helps to ensure birds aren't disrupted during nesting season.
Pruning trees incorrectly or during the wrong stage of their growth cycle may cause them stress. This can manifest as a vigorous reactive regrowth, tree decline or in worst cases tree death. It's ok to prune certain trees throughout the year while others will require attention during the dormant season. Dormancy occurs in the winter months between late November to early spring. Other trees will require pruning at different times of the year.
The correct time of year to prune trees varies with differing species so please consult with a reputable Dublin based tree service provider such as Crown Tree Services. We're here to help you with advice in relation to tree pruning. Click here for a more in depth description of pruning.
We select young trees from a reputable Dublin nursery for planting in your garden. Crown Tree Services are here to help provide advice on selecting a suitable tree for your specific set of circumstances. Trees are supplied and installed by Grange Growers of Kilternan. Contact us for more details or click here for a more in depth description.
The cutting down or dismantling of entire trees. We usually remove all green and woody material however we also provide a log splitting service. Let us know in advance if you would like to keep timber for firewood. Click here for a more detailed description.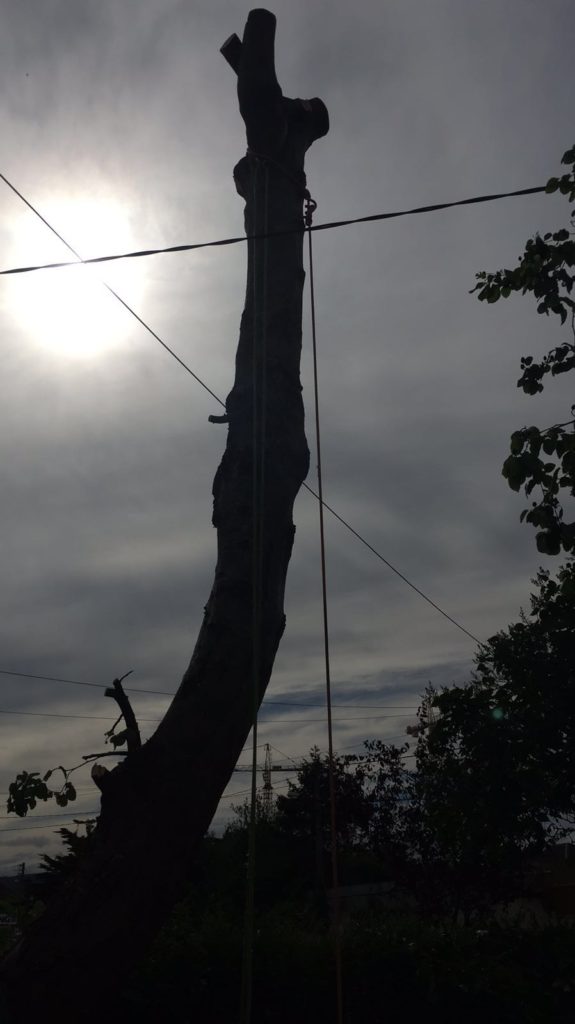 Wood Chipping Services
Wood chipping is the conversion of boughs and branches of felled trees into wood chips. If you have a pile of recently cut branches give us a call for a free quotation to take them away. We remove chippings as part of our service but let us know if you'd prefer to keep them. Chips are useful in mulching applications, for spreading under trees, to keep weeds down and to recycle nutrients back into the soil. Note that fresh wood chips are unsuitable for spreading among beds and young shrubs. Call us to discuss.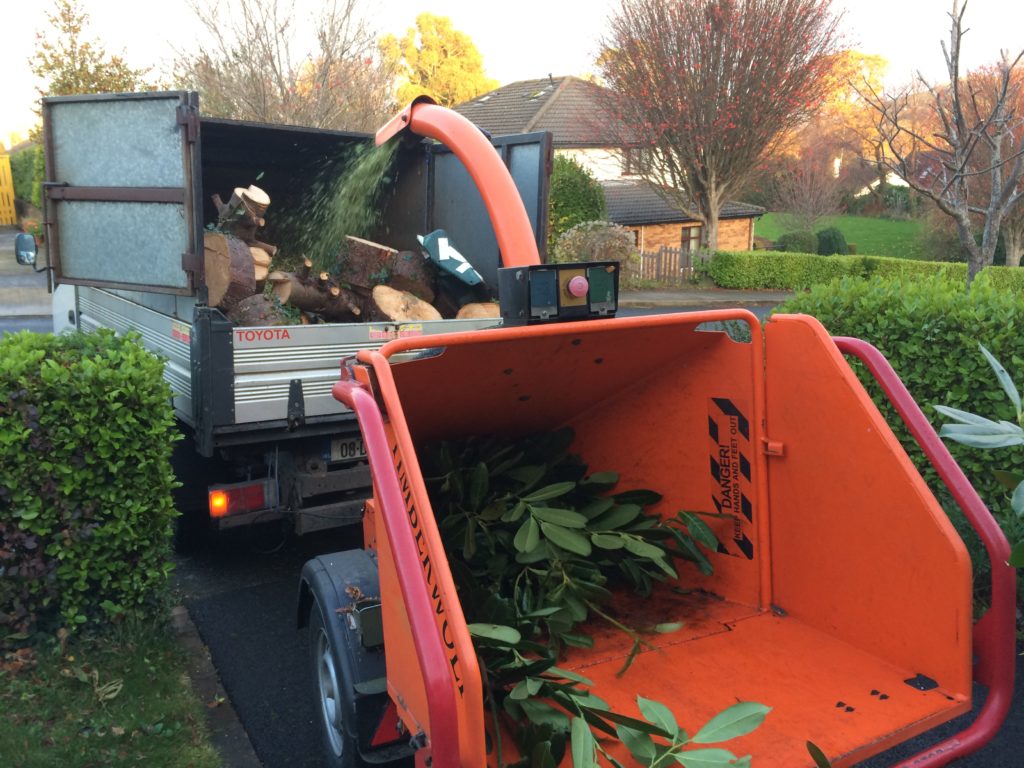 Crown Raising
Crown raising is the removal of lower branches over roofs and pavements. Also called 'crown lifting' it can be an effective way to allow extra light in to a shady garden. This is useful technique if the tree is too tall to benefit from a height reduction.
Overhanging Branch Cutting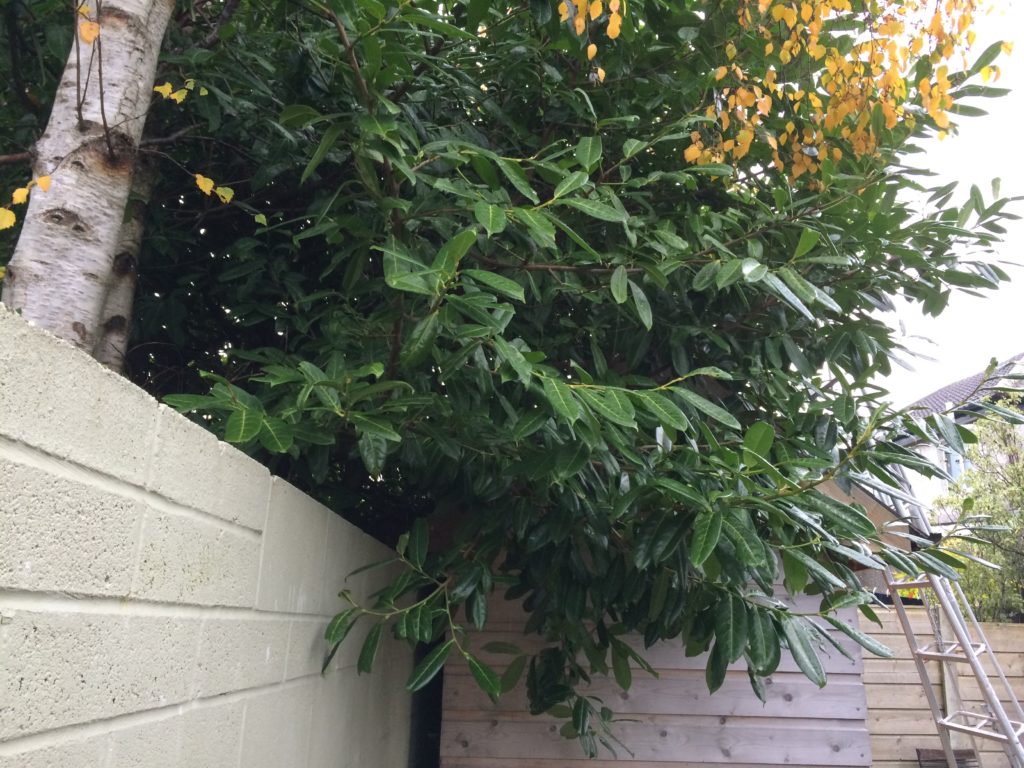 We cut back neighbouring branches that encroach into your garden. When branches encroach into your property we can prune them back to your side of the boundary line. You must offer trimmings and timber back to the owner. Remember they are under no obligation to receive this material and may decline it if they wish.
It's against the law to either remove or return trimmings to your neighbors property without their permission. Try to engage them in a courteous dialogue to establish their views on this matter. Please visit https://treecouncil.ie/tree-advice/trees-law/ to learn more about tree law where boundaries are concerned or contact us for more details.
With a crown reduction we reduce the height and spread of your tree through proper pruning practices. Our idea is to retain the general form of your tree while reducing its lateral spread and upward growth. So we reduce your tree in height and spread while striving to preserve its original form.
Crown thinning is the selective removal of specific branches to promote better air movement and light penetration throughout the crown of the tree. This helps reduce the overall density of the tree. A tree with less sail area for the wind to lever against may reduce the risk of it failing in strong winds or storms.
Hedge Trimming: Reduction in size, height or depth of your hedge row. Please see our Ethics section in relation to hedge reduction/removal and bird nesting season.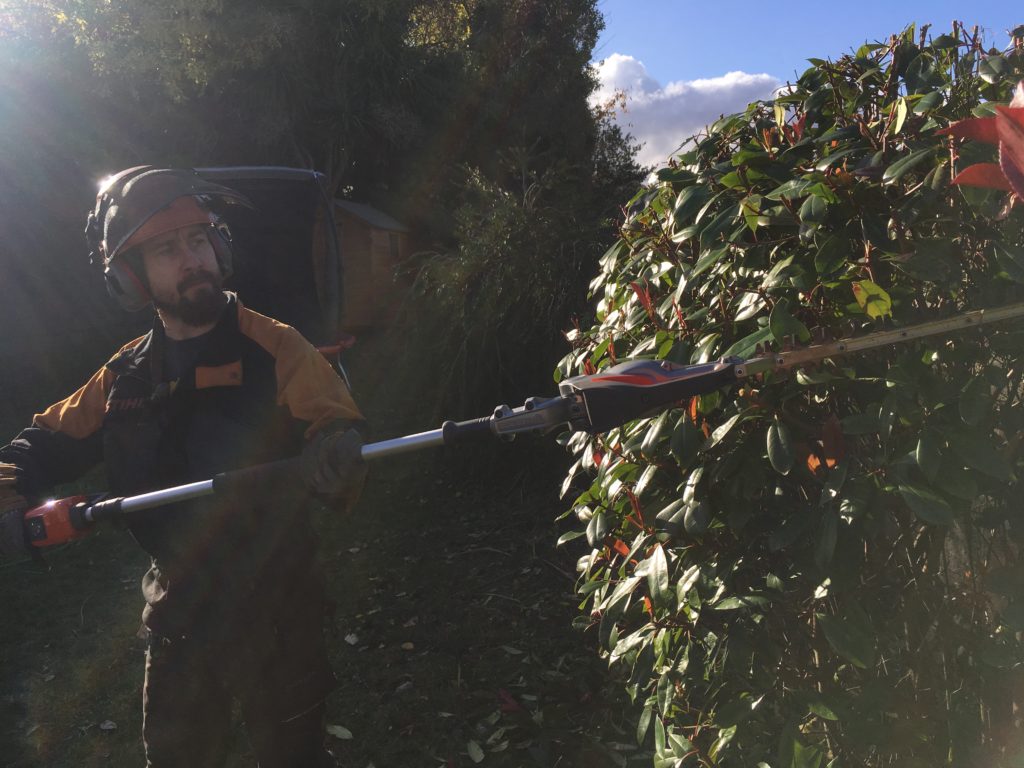 Tree removal involves dismantling a tree to ground level and removing resulting material. Timber is typically removed so do let us know if you'd like to keep it as firewood. Crown Tree Services also provide log splitting for an additional fee. We remove small, medium and large sized trees including shrubs, bushes and hedges. Please note our ethical position on birds during the nesting season.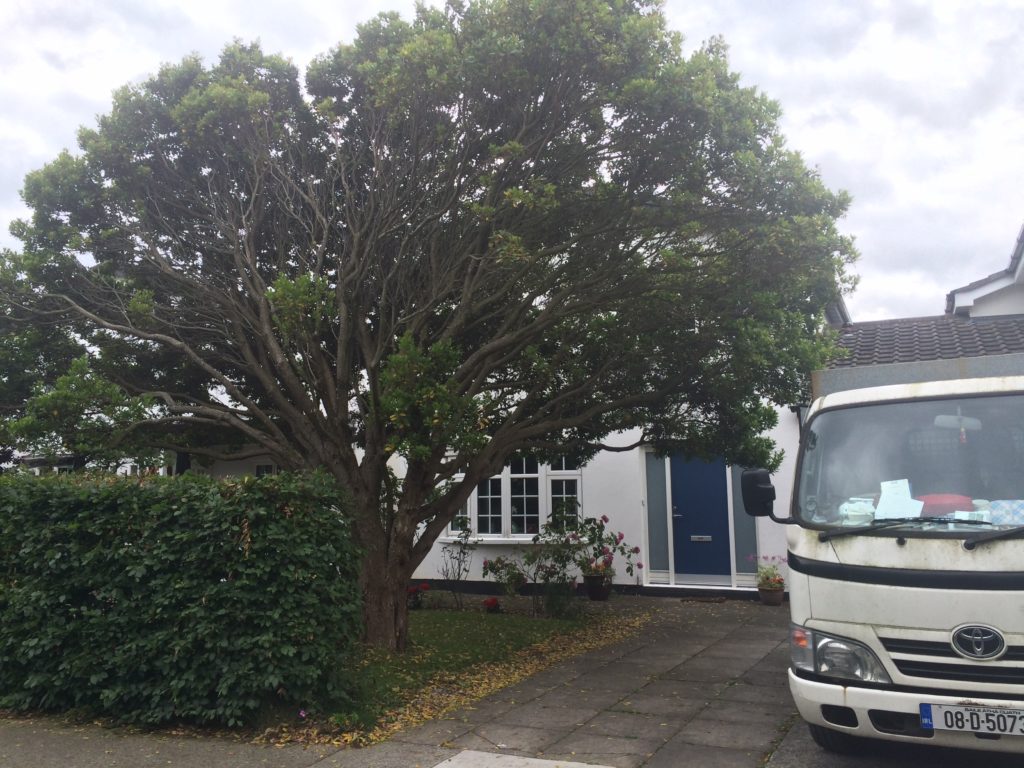 Stump grinding is the subsurface grinding down of a tree stump into smaller fragments and wood chips. Pulp is mixed with the surrounding soil and root material. Typically arisings are left onsite and will rot down over time. Removal of resulting arisings is available for an additional fee. Stump grinding is a related service and provided by Bill Clarke of Axe Tree Stump Removal. See image below to get an idea of how the soil looks after grinding down a small tree stump.